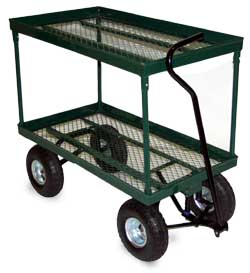 If you work with plants, you may want to invest in a nursery cart. It's an invaluable material handling tool that can improve your productivity while simultaneously lowering your risk of musculoskeletal disorders (MSDs).
Carrying plants and landscaping equipment is laborious. Over time, manually transporting plants and landscaping equipment can take a toll on your body. You may experience back pain, neck pain or other MSDs. But a nursery cart will allow you to quickly and easily transport these items.
Nursery Carts Defined
Nursery carts are exactly what they sound like: carts that are designed for use in plant nurseries.
Plant nurseries, of course, are places that grow new plants to a particular size. There are retail plant nurseries that sell plants to the general public, and there are wholesale plant nurseries that sell plants to other businesses like commercial landscapers and property managers. Plant nurseries will typically grow plants in small containers, after which they will sell those plants to their target customer base.
Most plant nurseries use carts to transport their plants. Known as nursery carts, they are designed to accommodate plants and related landscaping equipment. Whether you work in a plant nursery — or if you're simply a green thumb who regularly works in your backyard — you may want to buy a nursery cart. With a nursery cart, you can transport plans and landscaping equipment by rolling them rather than lifting and carrying them.
Common Features of Nursery Carts
All nursery carts have wheels on the bottom. Most of them feature four large, heavy-duty wheels. This makes them easy to roll. Nursery carts will roll easily on both flat and paved surfaces as well as uneven terrain like the ground.
A mesh construction is a common feature of nursery carts. You can find nursery carts made of different materials, such as powder-coated steel or aluminum. Regardless, many of them feature a mesh construction. They don't have a solid base. Rather, they have a mesh base. With their mesh construction, soil, pebbles and water will drain through the base.
Most nursery carts feature an ergonomic handle at the front. After loading up the nursery cart with plants and equipment, you can pull it by the handle.
While some nursery carts only have a single base on which you can place plants and equipment, others have two bases. They essentially feature two separate bases or shelves. Therefore, they offer twice as much space as their single-base counterparts.