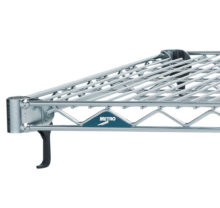 Rivet Racking and Adjustable Shelving units are versatile shelving systems which allow you a customized mix and match approach with individual components to meet your unique application needs. Ranging from general product storage to record storage all the way to automotive tire racks, this storage solution might be the perfect fit for you.
Rivet rack shelving units are quick and easy to assemble. These units are assembled by dropping the beams into slots on the uprights creating a strong & sturdy structure without requiring any tools for assembly. Rivet Racking is designed to maximize your storage space and minimize your installation efforts and setup time. All rivet rack components are engineered to attach tightly to one another without the use of fasteners. Its unique design has rivets which are factory attached to all left to right and front to back beams. The rivets align with keyhole slots in the vertical posts. Once tapped into place using a tool such as a standard rubber mallet, the racking units are firmly assembled providing maximum strength for your storage requirements.
Standard rivet racking units typically consist of vertical angle posts at the corners, double rivet angle beams at the top and bottom of the unit and single rivet angle beams running from left to right at the middle shelf levels. Shelves for rivet racking units are available in a few different materials. From 5/8" particle board to steel decking or wire decking, these shelving materials are easy to install and drop into place when assembling. Shelf strength can be increased by upgrading to heavy duty beams, adding single rivet beams running front to back on the midway levels, upgrading to heavy double rivet beams at the full perimeter of the intermediate levels or upgrading all levels to the strongest double rivet channel beams. Optional center supports can also be added using supplied hardware to increase decking capacity.
Rivet rack setups come in both starter unit options and add-on unit options. Starter unit uprights are made out of 14 gauge steel. These angle posts can be used as stand-alone sections or as the ends of two or more sections. The add-on unit uprights are also manufactured out of 14 gauge steel. These T-Posts are for use as intermediate posts in multiple sections.
Rivet racking comes in several different color options. Colors of the shelving units can be customized per the options provided by the manufacturer. A few common color options are grey, blue and putty. Color options can affect the lead time on your shelving unit so this is something to consider and consult your supplier about when ordering your rivet racking