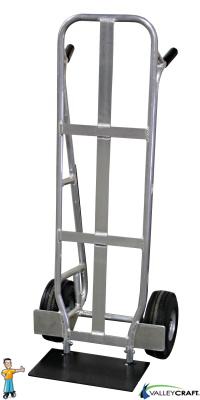 Valley Craft is a manufacturer of industrial equipment and carts located in Lake City, Minnesota. Valley Craft designs, develops and manufactures premium material handling and storage solutions. These solutions include a vast range of proprietary and custom solutions. Valley Craft was established in 1953 when Carl Weinmann introduced the first hand truck with a brake. Over the last six decades, Valley Craft has grown to become a world class manufacturer known for its expertise in producing rugged and versatile hand trucks, carts, trailers, portable lifts, hydraulic drum handling devices, and storage equipment.
At The Caster Guy, we work closely with Valley Craft and are a stocking distributor for their products. Though it is challenging to stock all of their products due to size and custom applications, we work with our customers on all lines of Valley Craft products to find the right solution for their needs.  The product line where the majority of efforts are focused would have to be their distribution hand trucks which are mostly readily available and in stock at our showroom. Built to handle heavy, cumbersome loads and crafted to last through years of rugged use, Valley Craft's hand trucks are backed by their quality guarantee to ensure you of a superior product with maximum capability.
Valley Craft hand trucks are welded aluminum distribution trucks which come in straight and curved back variations. The straight back is great for distributing cases of beverages while the curved back design is geared toward keg distribution. Designed to withstand heavy abuse, the welded frame hand truck is a strong and durable solution which has been proven over the years has a trusted distribution truck for many route drivers across the USA.
We stock complete hand trucks along with replacement parts for all of Valley Craft's distribution trucks. Replacement handles, shoes, wheels, bearings and axles are the most common areas for repair but we also provide repairs for re-welding the frames where welds of broken or the frame has cracked. Valley Craft's distribution trucks may be the right solution for your distribution needs to please let us know how we can further assist you with your questions!