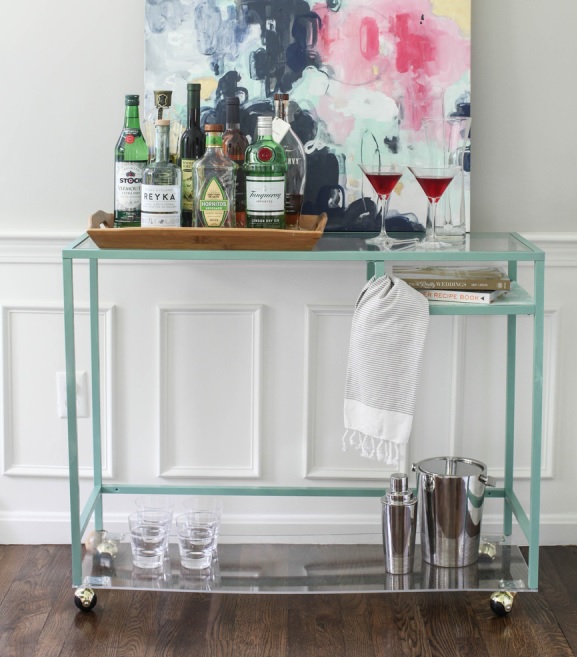 Materials Needed: IKEA Laptop Table, Caster Wheels, 1/4″ Acrylic Plastic Sheet, Drill, 1/2″ and 3/16″ Drill Bits, Screws, Paint, Glass Cutter.
This do-it-yourself beverage cart makes it easy for you to entertain your guests by displaying your drink-making essentials on an easily accessible yet stylish cart.
I'm sure most of you have heard of IKEA but if you are late to the party, IKEA is a Scandinavian retail chain selling ready-to-assemble furniture, plus housewares. I personally have a love-hate relationship with them.  I love the idea of affordable and stylish furniture, but hate when I walk into someone else's home and see that exact same piece of furniture that I purchased the week before.  This is exactly why I love this DIY project.  Stylish, affordable, and far from anything that feels mass produced.
Instructions:
Step 1: Assemble the IKEA table according to the instructions provided from them.  Set aside the glass top & the particle board shelf.  Move the metal table frame onto a dropcloth and spray paint (with a color of your preference) in several light coats to prevent drips from forming.
Step 2: Paint a light coat on the particle board shelf.
Step 3: Cut acrylic sheet to be 39-3/8" x 14-1/8" with a glass cutter.
Step 4: Turn metal frame upside down and place acrylic sheet on top.  Use a pen to mark the location of the holes on each leg on the acrylic sheet.  Remove the sheet and drill holes through the sheet on each mark with the ½" drill bit.
Step 5: Place the caster wheels ¾" from the edge of the acrylic sheet on all four sides, and mark the holes with a pen.  Remove the casters and drill holes through the sheet on each mark with the 3/16" drill bit.
Step 6: Place caster wheels on the sheet and drill screws in to secure in place.  Place sheet on the metal frame (wheels up) and drill the machine screws into the legs.  Place the shelf into the shelf slot and drill the remaining 4 screws in to secure it.
Step 7: Flip the table over and place the glass sheet on top.  Style with your favorite cocktail accessories, and wheel out to party!
This DIY project was found at: http://www.stylemepretty.com/living/2013/07/10/diy-ikea-bar-cart-hack/